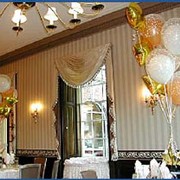 About Tailored Events
---
Tailored Events will help you plan the most entertaining, enjoyable and memorable event you've ever imagined.
Over the last 30 years, each member of the Tailored Events family has contributed a unique and important role to serving the community as performers and event planners. Rose Lau is an accomplished fine artist, talented vocalist, all around creative person. Kathy Lau brings her experience as a performing club musician. Stage and set designing for event décor is her specialty and true talent. Patriarch Tony Lau was our first expert Santa and Tuba-Loonagram artist. Brother Bill has been an invaluable crew & consultant while his talented wife Fran, is a talented stylist.
Rich Lau is a fine vocalist, writer, humorous raconteur and terrific Santa. He is now managing attorney at Richard T Lau & Associates. His wife Jennifer is our fabulous graphic designer.
Kathy Lau was a music teacher, singer and guitarist before jumping in to manage the company. She now develops telegram characters and writes and performs Tailored Tunes.
Featured Exhibitor
Seatingarrangement.com
The ultimate tool in planning any social event or function!
Read more