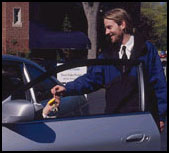 About Exclusive Valet
---
For more than 15 years, we've given the gift of exclusive service to our prized clients here at Exclusive Valet. Our well-trained and courteous valet attendants are more than ready to welcome your arrival at more than 35 premier locations in Boston. If you're planning something special for an upcoming wedding, graduation, birthday or corporate event, there's no better classy way to dress things up than with a valet service.
Each client's specific needs are taken into consideration by our managers and a specific plan of operation is designed to suit them. An appropriate and adequate supply of professional attendants and responsible managers are placed at each location for each event and we take pride in our consistent and careful communication between staff, enabling us to understand the needs of each of our valued guests.
Featured Exhibitor
Seatingarrangement.com
The ultimate tool in planning any social event or function!
Read more