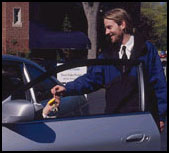 About Exclusive Valet
---
Exclusive Valet has been providing exclusive service to its valued clientele for over 15 years. You can find our courteous, well-trained valet attendants ready to welcome your arrival at over 35 premier locations in the greater Boston area.
Having a Special Event?
We provide valet services for:
Weddings
Graduations
Birthdays
Corporate events
Religious events
Private parties

Exclusive Valet managers design a specific plan of operation for each client in order to suit their particular needs. An appropriate number of professional attendants and responsible front managers are assigned to each location and many more are always available. Careful and constant communication between managers and attendants enables us to understand the needs of each establishment and its valued guests.

You can count on the Exclusive Valet family to extend a warm welcome matched with prompt and efficient service. With Exclusive Valet you can expect Exclusive Service.
Featured Exhibitor
Seatingarrangement.com
The ultimate tool in planning any social event or function!
Read more