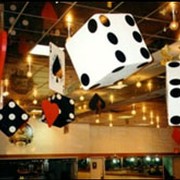 About The Main Event Company
---
"Lose yourself in the moment....you deserve it."
You have a vision of your perfect event, but where do you begin? The planning of a spectacular event may be overwhelming to some and finding the right connections to make your event a success may seem near impossible.
The Main Event Company, based in Atlanta, GA, is a full-service event and wedding design company. From small intimate affairs to grand galas, The Main Event Company will make it happen. We will listen to your desires and fulfill your needs by customizing an event just for you.
The Main Event Company's services include all aspects of event design from custom décor, catering services, florals, table centerpieces, balloon art, entertainment services, props, equipment rentals, party favors, table linens, event locations, activity suggestions, themes, invitation coordination, and more.
The Main Event Company is committed to providing genuine personalized service resulting in complete customer satisfaction. Give us your vision...we'll give you a dream.
For additional information please visit our website www.themaineventcompany.com
Click on the following links for our other services:
Casino Party Atlanta
Atlanta Corporate Event Producers
Atlanta PartyDecorations
Featured Exhibitor
Seatingarrangement.com
The ultimate tool in planning any social event or function!
Read more