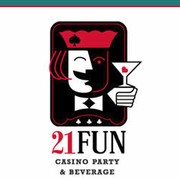 21 Fun Casino Party and Beverage
Theme Parties > Casino Parties
www.21fun.com
About 21 Fun Casino Party and Beverage
---
21 Fun Casino Party and Beverage
Phone: 888-275-2921
Website: www.21fun.com
Offering the newest in premier casino entertainment
Serving Northern California.
21 FUN dealers are professional, helpful, and friendly to experienced and novice gamblers alike.
Our gaming equipment creates all the excitement of a real Vegas-style casino.
21 FUN table layouts ar digitally-mastered and custom-designed for 21 FUN casino parties.
Ask us about putting your logo on our blackjack tables for your next corproate event!
We will tailor a casino party package to your budget and party specifications.
We can cater to the most sophisticated audiences and provide premium services.
If you've never hosted a 21 Fun Casino Party, you're in for a speical treat!
WE SPECIALIZE CASINO PARTIES FOR:
Corporate events
Holiday parties
Poker Nights
Birthdays
Anniversaries
Graduation
Bachelor Parties
Special Events
21 FUN GAMES INCLUDE:
Blackjack
Craps
Roulette
Texas Hold'em Poker
Wheel of Fortune
Ask us about classes for Texas Hold'em Poker and Blackjack!
Contact us for additional information at (888) 2-PLAY-21
Email: pitboss@21funcasino.com
Request a free quote for your next casino party today!
For additional information visit our website at
Featured Exhibitor
Seatingarrangement.com
The ultimate tool in planning any social event or function!
Read more