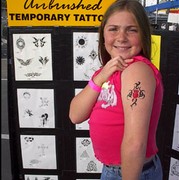 Tats Temporary Airbrush Tattoos & Body Painting
Artists > Henna, Airbrush & Temporary Tattoos
www.tats-tattoo.com
About Tats Temporary Airbrush Tattoos & Body Painting
---
TATS TATTOO is Southern California's #1 MOBILE Temporary Airbrush Tattoo Service.
At TATS TATTOO, Southern California's #1 Mobile Temporary Airbrush Tattoo Service it is our commitment to the enjoyment of temporary tattooing that we only use the highest quality paints from FDA approved ingredients.
The tattoo lasts up to 5 days. This formula is water resistant, non-toxic and hypo allergenic, but easily removed quickly with rubbing alcohol. These paints come in a variety of colors, enabling the artist to create colorful and unique temporary tattoos with a highlight of glitter upon request.
Tat's Temporary Tattoo artist Perry first started temporary tattooing in 1998 using natural henna at Venice Beach. However, the public wanted more than just the reddish brown color of natural henna. Peopl e want black and colored tats! Airbrushing body tattoo paint makes your tattoo smudge proof and quick drying. So keeping up with the coolest trend in temporary tattoos and body art, Perry picked up an airbrush and the rest is history.
Customers found the results of Perry's creative talen ts, airbrush techniques combined with smudge proof, quick drying tattoo and body paints provided an incredible combination that brings smiles to everyone.
All of the artists at TATS TATTOO in Los Angeles and San Francisco are professional, fun, and friendly.
We do:
Birthday Parties

Kids Parties

Adult 40th / 50th Birthday Parties

Corporate Events/Picnics

Bar/Bat Mitzvahs

Graduations

Theme Parties: Toga, Biker, Bachelorette, Etc.

Church / School Fund Raisers

Modeling / Catwalk / Photo Shoots

Wedding Receptions

Mardi Gras Parties

Premiers

Grand Openings

Fairs / Festivals

Studio / Stage

Tats Tattoo Airbrushed Temporary Tattoos at these events:

Jack FM 3rd show, Verizon Amphitheater
Bloomingdale's Century City
American Idol, Fox Network Party, Kodak Theatre Complex 2005, 07, 08
Hollywood Celebrity Academy Awards Oscar Party
Peachhead Day 2007, 08
Washington Mutual Picnic
Revere Music Festival
St Bede's Fund Raiser 2006,07,08
Cal State Fullerton Student Event
Shopzilla Corporate Party 2005, 06, 07, 08, 09
Toyota NASCAR 2007, 08
Bat Mitzvah at Jonathan Club
Bar Mitzvah at Beverly Hil ls Hotel
X-Games & Comic Con
Hype TV division of Playboy TV, instructing Mekhi Phifer, How to Body Paint
ABC, MTV, Spike TV
Tattoo Expo in Pomona
Long Beach Grand Prix
Numerous Private Parties including
Lisa Marie Presley's 40th Birthday Party
Rodney Dangerfield's Family Party
Gene Roddenberry's Family Christmas Party
Sugar Ray Leonard's Family Birthday Party

TATS TATTOO makes your party planning easy by providing everything the artist will need like the chairs and lights, so that you can have peace of mind and enjoy the PARTY!
Featured Exhibitor
Seatingarrangement.com
The ultimate tool in planning any social event or function!
Read more