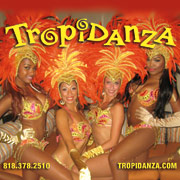 Tropidanza Entertainment - Samba & Salsa Dancers
Dancers > Latin Dancers
www.tropidanza.com
About Tropidanza Entertainment - Samba & Salsa Dancers
---
Tropidanza Is Avaialble For:
Parties Corporate Events, Concerts, Festivals, Television Events, & Much More.
Leila Flores, dancer, choreographer, and creator of TROPIDANZA, has assembled a diverse team of beautiful and talented dancers and drummers. The chemistry of this multi-cultural ensemble radiates with sheer energy and passion! Tropidanza performer are known for having some of the most energetic and beautiful dancers in town making any event a pleasant and memorable one. Her drummers are sure to make you want to stomp your feet and join in on the festivities!!!
Tropidanza Performance History:
Tropidanza has performed all over the United States and Internationally. The most recent Performances include: 2010 Hong Kong Chinese New Year Parade with 40 dancers and drummers. America's Got talent, Andre Sobel Celebrity Charity events Havana Night's. Pre Grammy award shows, Diversity Awards, Concerts including the Further Festival (The Grateful Dead), Carlos Santana's Concerts and Super Natural DVD (Miami and Los Angeles). Performing every weekend at the Valley's hottest spot The Rio Lounge and Grill with a diverse International dinner show. Brazilian Carnival Performances at Hollywood Palladium ,San Francisco, San Diego and Arizona. Corporate events in Las Vegas, New York, Miami and California.
Tropidanza has also performed at numerous corporate and celebrity events, including performances for Jaime Foxx, Sheila E. , Jennifer Lopez, Julie Andrews to name a few. Various motion Picture and wrap parties. Events for Chivas Regal, Malibu rum, Miller Light and Brahma Brazilian Beer.
Dance Styles Include:
The dance choreography is carefully studied and performed enhancing authenticity and presenting the true artistic nature of the dance.
For additional information visit our website at
Featured Exhibitor
Seatingarrangement.com
The ultimate tool in planning any social event or function!
Read more