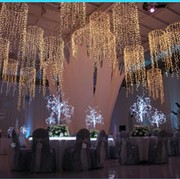 About Brilliant Events
---
The event planning corporation founded in 2000 by Debbie Barton, someone who knows all the "ins & outs" of an event because she's quite literally "been there" and "done that" -- from working events herself (blowing balloons, spinning cotton candy, cooking & serving in the early days) to planning and implementing large-scale creative extravaganzas today -- with expertise handling all the details in between!
With a "customer comes first" philosophy, Brilliant Events is an event planning company operating in the Dallas/Fort Worth area. We don't pretend that we own every decorative prop under the sun -- or that we're an exclusive entertainment agency -- or even that we cook all the delicious food we serve ourselves. Instead, we are free to assemble all the elements with the best values that the industry has to offer, put them together and organize the whole shebang so it's customized, complete & cohesive -- not to mention cost-effective!
We have a saying around the office: "So...ya wanna be a party planner?" You might think it's all fun & games (and honestly it is most of the time), but there is a serious side to the business of party planning. We anticipate all the event needs, then take care of the headaches & hassles so that the client is able to actually ENJOY the event! That's one value of the services we provide.
For More Information Please Visit Our Website
Featured Exhibitor
Seatingarrangement.com
The ultimate tool in planning any social event or function!
Read more